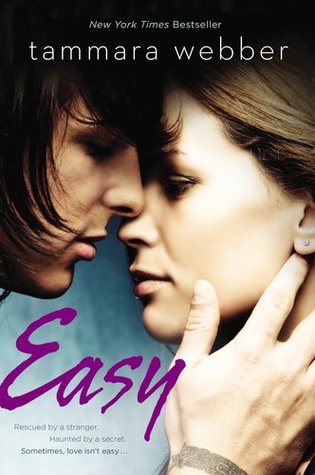 Title Easy
Series Contours of the Heart
Author Tammara Webber
New Adult Contemporary
Synopsis
When Jacqueline follows her longtime boyfriend to the college of his choice, the last thing she expects is a breakup two months into sophomore year. After two weeks in shock, she wakes up to her new reality: she's single, attending a state university instead of a music conservatory, ignored by her former circle of friends, and failing a class for the first time in her life.
Leaving a party alone, Jacqueline is assaulted by her ex's frat brother. Rescued by a stranger who seems to be in the right place at the right time, she wants nothing more than to forget the attack and that night – but her savior, Lucas, sits on the back row of her econ class, sketching in a notebook and staring at her. Her friends nominate him to be the perfect rebound.
When her attacker turns stalker, Jacqueline has a choice: crumple in defeat or learn to fight back. Lucas remains protective, but he's hiding secrets of his own. Suddenly appearances are everything, and knowing who to trust is anything but easy.
According to me a Prologue or the 1st Chapter of a book is THE reflection – SO it must capture my attention from page 1 I will continue a few more chapters to give the Book a fair chance to change my mind!
My Review!
Steve Perry – "Oh Sherrie"
https://www.youtube.com/watch?v=zFxGt…
Easy begins with an explosion, the author instantly dives into her bold unique novel!
EASY deals with rape and assault, and there's the painful, serious quality to those parts of the book!
Background
It's set at a university!
The main character, Jaqueline, a cool girl, artsy musician–smart student she has gone to this university to be with her boyfriend!
Type of Characters and my choices according to pictures :
Lucas OH MAN LUCAS – LUCAS – LUCAS → is one of the most intriguing leading characters, a perfect wounded hero.
Jaqueline, a cool girl, artsy musician
Relationship development
As Jacqueline starts off pushing her life forward after her heartbreak and also after the end of a 3 year relationship the story unfolds and there is not one pause in this book! →
I WAS LIKE JUST ONE MORE PAGE BABE – and hubby is NOOO – shut of the lights NOW grr – what about my readers feelings NOT NICE.
Adam Lambert – Another Lonely Night
https://www.youtube.com/watch?v=JT_xn…
Two conflicting BUT equally desirable guys come into her life.
We meet Lucas, the mysterious artist in her class and a totally swoon worthy male.
Then there's Landon, the class instructor who is bright and humorous and seems to be what Jacqueline needs right now after her breakup
Lucas character I could not or would resist I just wanted more and more of him
(I AM HIDING HIM UNDER MY BED IN CASE YOUR WONDERING WHAT HAPPENED TO HIM)
His heartache surrounding his backstory vibrates even after you finish the book. I felt like I really got to know him, like I would know what to say to him in conversation if I met him →
As you noted I loved Lucas (WHO AM I KIDDING – I AM TOTALLY IN LOVE WITH MY NEW BB – hook and center)
Jacqueline is a strong reliable character.
When the book starts she is very unsure of herself, she gains strength as the book progresses and it unfolds so beautifully.
She needs to learn to accept how to cope with the after effects from her attack and rape, but there's also the subtle changes she undergoes via her relationship with Lucas and he is such a sweetheart throughout this ordeal and her healing process!
The secondary characters, especially Erin, Jacqueline's roommate, is different than Jacqueline, and it's really important to the story she is unique and adds an edge to the story-line
Chapter Development
The chemistry between Jacqueline and Lucas is ridiculously hot. Easy doesn't have a ton of blatant sex, but it has some of the most sensual reading scenes I've read.
Quote → I loved
Everyone needs a best friend like Erin.

She's the perfect balance of zany & voice of reason.

"Could be hot…" she whispered.
"Especially if there's a uniform. Or handcuffs." (I TOTALLY AGREE WITH HER BTW)
Epilogue! →
Bottom line: I was totally miserable when I came to the final page, not sure when I pick up next read I will like it but hopefully I will not go into a book slump after this read!
Recommend to the following type of readers: →
Over 16 etc
Will I recommend this

Will I read it again?→
YES AND I WILL Highly RECOMMEND IT!
My feelings while reading this: →
To the Author
Tammara Webber created an astonishing extraordinary BOOK
THIS AUTHOR She has written a book that will be hard-to-get-out-of-my-head story-line, she written with skill craft an just an amazing story!
Thank you TW– You ROCK