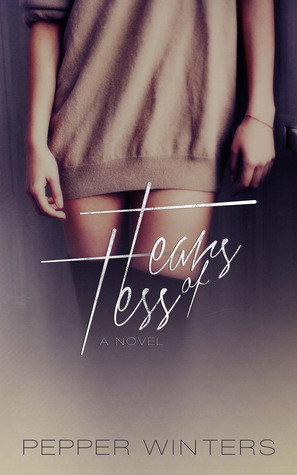 Title Tears of Tess
Series Monsters in the Dark
Author Pepper Winters
Romance Dark
SYNOPSIS
"My life was complete. Happy, content, everything neat and perfect.
Then it all changed.
I was sold."
Tess Snow has everything she ever wanted: one more semester before a career in property development, a loving boyfriend, and a future dazzling bright with possibility.
For their two year anniversary, Brax surprises Tess with a romantic trip to Mexico. Sandy beaches, delicious cocktails, and soul-connecting sex set the mood for a wonderful holiday. With a full heart, and looking forward to a passion filled week, Tess is on top of the world.
But lusty paradise is shattered.
Kidnapped. Drugged. Stolen. Tess is forced into a world full of darkness and terror.
Captive and alone with no savior, no lover, no faith, no future, Tess evolves from terrified girl to fierce fighter. But no matter her strength, it can't save her from the horror of being sold.
Can Brax find Tess before she's broken and ruined, or will Tess's new owner change her life forever?
A New Adult Dark Contemporary Romance, not suitable for people sensitive to grief, slavery, and non-consensual sex. A story about finding love in the strangest of places, a will of iron that grows from necessity, and forgiveness that may not be enough.
Before you read this review look at this GIF below and then proceed with caution – This is one tornado I could not stop it!
Please visit our blog for more reviews
My review!
Tears of Tess by Pepper Winters Book Trailer
https://www.youtube.com/watch?v=ZI1az…
This sentences left me speechless

"A human is adaptable. A human heart is not."
"Monsters find each other in the dark."

I need to say this is a raw emotional read that deals with the most feared topic of human trafficking. .
Last night I was a very-very naughty lady
I started reading this book and could and would not stop reading until the end
The problem I faced with this is I had to work today – so I was so-so tired ALAS will teach me to do things I am not supposed to do! Now the 4 stars is not that I did not like the book!
I DID like the book. But I cried so much for Tess, not soft tears big ugly fat tears!
I was not myself today and ALAS for looking like I did today this book will receive 4 stars – maybe if I did not cry so much I would have given it 5 stars
SO Dearest Author you made me cry – not angry at you just stating facts!

We meet Tess – she and her boyfriend Brax went on a vacation too Cancun Mexico – she hoped that the sexual encounters shared will become more than just vanilla sex – but nope boring as hell
Tess thoughts before her abduction:
Tess wanted dominance, pain and sex that was dark and rough – but always be careful what you wish for!
"I wanted a new label. One that said: girlfriend who will do anything to be tied, spanked, and f****d all over rather than adored."
Life as Tess knows it changed in a mere second
Tess was kidnapped drugged – and the realistic world of human trafficking is her new life
All her dreams of having more than just vanilla sex turned into a nightmare.
But Tess have this inner strength that left me speechless –
Have you ever met a heroine that refused to be broken – well if you did not read this Gem our heroine will show you there is hope, until the end she never stopped fighting – even if it turned out that her biggest dream turned into a nightmare!.
"Accept that you are no longer a woman. You are merchandise. And merchandise must have a barcode for sale."

Amy Macdonald – This Is The Life
https://www.youtube.com/watch?v=iRYvu…
Tess is then sold to Q.
Q to Tess:
"You want to know how dark I'll go?

"I want blood. I want you sobbing at my feet."

"You're mine. My Tess. "

Do you like it when I call you that? Mine?"

"Q moved with power and undeniable knowledge of perfect control."

"I will learn who you are one day. That is a promise. And my promises are law"

"How much for a non-virgin Australian woman with an unfinished bachelor in property development?"
We meet her new master Q Mercer – dark and mysterious and sexy as hell, rich, handsome and very Dominant
"While being Q's prisoner, I'd never been so alive. Sure, he was a bastard and the things he did weren't legal, but at the same time he made me live."
.Tess Snow's after abduction:
Q to Tess

"Strip."

"The guy with the scar gathered the belongings and disappeared. The wardrobe of our past lives.

Gone – just like that. It symbolized more than just undressing us – it was a message: they owned us. We no longer had the right to wear what we wanted, go where we needed, love who we adored. We were reduced to nothing but naked, trembling girls."

"Sí. Our boss hopes he enjoys this one. She's got spirit. He should have fun breaking her."
Amy Macdonald – Poison Prince
https://www.youtube.com/watch?v=FhDTV…
Q to Tess
"He froze, nostrils flaring. We stood, silently glaring, before he fisted my hair.

"You don't know anything, enclave. I want this. I've wanted this for too damn long, and you're wrong that it hurts." Chest strained in his immaculate suit as he leaned in, kissing the shell of my ear. He whispered,

"I'm not afraid of hurting you. I'm afraid of how far I'm willing to go."

"Je suis à toi."

Nirvana – Come As You Are
https://www.youtube.com/watch?v=vabnZ…
Tess
"Two things I wanted most in the world: for Q to die a miserable death, and for him to @#$k me."

"Soft lingers of citrus and sandalwood clenched my stomach with love and hate. Two equal feelings, so different, yet not different at all. They were both one thing: passion."

"I hadn't gone Stockholm-

I hated him, knew what he did was wrong, but my body…, my body didn't care."

"He would look after me as long as I pleased him"
TO THE AUTHOR – Thank you for writing this – this was one hell of a roller coaster ride! The minions and I approve

Pepper Winters written an absolutely stunning and compelling Debut Novel – a must read if you are over 18, it will you leave you broken but also teach you never to stop fighting, but I sat on the edge of the bed!
YASS ALAS I WAS READING IN BED it is WINTER IN SA BTW (AND IT IS COLD)
I was eating my nails, and at some point I wanted to shout and scream but everyone in my house was sleeping so I just cried and cried some more, And I needed a hug – but hubby was sleeping :(!
Amy Macdonald – Spark
https://www.youtube.com/watch?v=huMTh…
If I have to describe this book it will be like this Erotic, Brutal, Sinfully Dark, disturbing, it will leave you with feeling of WTF did I just read – but in the end – please give me more – so alas I am reading book 2 Quintessentially Q straight after this book