Dian Fossey


Dian Fossey in November 1984
Born January 16, 1932
San Francisco, California, U.S.
Died December 26, 1985 (aged 53)
Volcanoes National Park,Rwanda
Murder
Citizenship United States
Fields Ethology, primatology
Institutions Karisoke Research Center,Cornell University
Alma mater
College of Marin, (1949-1950)San Jose State University (B.A.,Occupational therapy, 1954)
Darwin College, Cambridge(Ph.D., Zoology, 1974)
Known for Study and conservation of themountain gorilla
Influences Jane Goodall, Louis Leakey,George Schaller</b>
After I saw the movie "Gorillas in the Mist," I had to read this book
Gorillas in the Mist (1988) Official Trailer – Sigourney Weaver, Bryan Brown Movie HD

Gorillas in the Mist is Dian Fossey's account of thirteen years spent learning mountain gorillas on the Virunga volcanic mountains.
Called one of the foremost primatologists while alive.
Although Fossey has been dead for over 25 years – she was killed in 1985, her ideas and contribution to conservation approaches still warrant recognition, if not application

Life and career
Fossey was born in San Francisco, California, the daughter of Kathryn "Kitty" (née Kidd), a fashion model, and George E. Fossey III, an insurance agent
Education
Educated at Lowell High School, following the guidance of her stepfather she enrolled in a business course at the College of Marin. However, spending her summer on a ranch in Montana at age 19 rekindled her love of animals, and she enrolled in a pre-veterinary course in biology at the University of California, Davis.
Interest in Africa
Fossey turned down an offer to join the Henrys on an African tour due to lack of finances, but in 1963 she borrowed $8,000 (one year's salary), took out her life savings and went on a seven-week visit to Africa.
In September 1963, she arrived in Nairobi, Kenya. While in Kenya she met actor William Holden, owner of Treetops Hotel, who introduced her to her safari guide, John Alexander. Alexander became her guide for the next seven weeks through Kenya, Tanzania, Democratic Republic of Congo, and Rhodesia.
Rwandan president and one of the country's most wanted criminals for his creation of "death squads," which killed 800,000 in 1994,</b> was captured by Belgian police while trying to flee Kenya on June 9, 2001.
For years the FBI was unable to catch its <b>prime suspect, Zigiranyirazo, because of the dogmatic influences, but that all altered when he was detained in Belgium for combat wrongdoings.
There are really no easy solutions. Reading Gorillas in the Mist filled me with awe and respect for these amazing animals. Can you imagine a world without gorillas? I've never seen an actual gorilla, but I love knowing they exist somewhere. And the thought of them no longer existing makes me tremendously sad.


From the moment you open this captivating non-fiction book about the mountain gorillas of the Virunga Mountains, you crave to know more of these "gentle giants".


Though it would be easy Ms. Fossey to stray away from the gorillas to her own private life, Ms. Fossey stays totally attentive on her unselfish voyage to explain to the world that these gorillas are not beasts but "gentle Goliath's".
She gorgeously paints the picture of the gorillas' close-knit families and groups! Ms. Fossey also brilliantly fit in her own knowledge with the gorillas. This volume showed me that humans and gorillas can have relationships and can be "friends".

Intensely thorough and enunciated by Ms. Fossey and her studies and sympathy towards these superb Animals. This volume goes on to detail gorillas and their lives as well as the battles of deforestation and the combat to protect them. You get to know specific gorillas as well as Diane Fossey and her lifespan. I praise this and will recommend it especially to animal lovers.
Koko the Gorilla with in memory Robin Williams

This is for fun the lets dance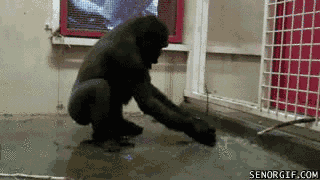 Whitney Houston – I Wanna Dance With Somebody